How To Find The Best Mutual Fund For Investment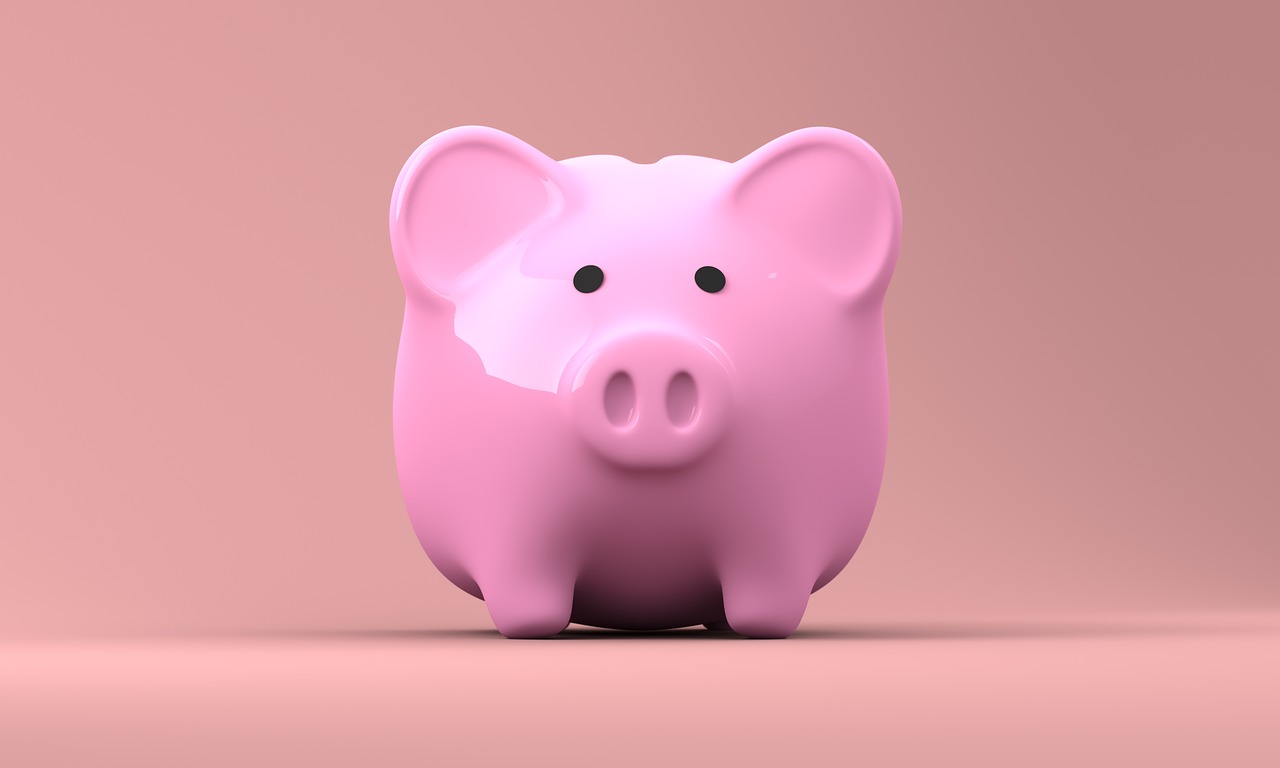 Mutual Funds are nowadays becoming the most liked instrument for investing, its acceptance is growing at the rate of 25% CAGR in the last five years. Even after this astonishing growth & its craze in the middle class, most people do not know how to choose or how to find the best mutual fund for investment.
The most common ways by which a common man chooses a mutual fund is through some tip offered by office colleague/relative or by investing in that fund in which a close friend is investing or after seeing some frequent advertisement on TV or after reading some articles on the web (like top 10 mutual funds in India / best mutual fund for tax saving).
But these are not the right ways of investing in mutual funds. Neither they are scientific nor they are rewarding, instead they are very risky ways of investing.
In this article, we will brief you about steps (funnel approach) of choosing the best mutual fund for investment. These steps are universal and could be used to select the best mutual funds irrespective to the objective of investment or category of a mutual fund or types of fund i.e. direct or regular.
Funnels & principles we are using in this article will be same as of our last article on How To Find Best Shares To Buy. We will be pooling data from two well known websites Money Control & Value Research.
Let's begin & learn by finding the best mutual fund for tax saving (ELSS) in India.
Step 1 : CRISIL Rating Is The Best
Go to money control or value research ELSS fund page and download the complete list of ELSS funds, there are total 132 ELSS funds present in the Indian market including direct n regular funds (but we will consider only direct funds for this study).
Sort these direct funds as per CRISIL ranking as given in fig 1. Remove all the funds that do not have CRISIL ranking (in red; fig 1), this leaves us with only 35 funds for further evaluation.
Rationale
CRISIL ranking gives us a competitive comparison of funds, which tell us about the overall health of the fund. Funds having CRISIL ranking tell us that funds are reliable and have good standing among competition.
To elaborate CRISL take the following parameters into consideration before ranking the funds : Active Returns, Tracking Error, Portfolio Concentration, Mean Returns, etc. CRISIL rank funds from 1st to 5th .
Step 2 Assets Under Management (AUM)
Sort the remaining 35 funds on the basis of Assets Under Management (AUM) in descending order and remove all the funds whose Assets Under Management (AUM) is lesser than Rs. 1000 Cr. This leaves us with only 16 top ELSS Funds to evaluate further.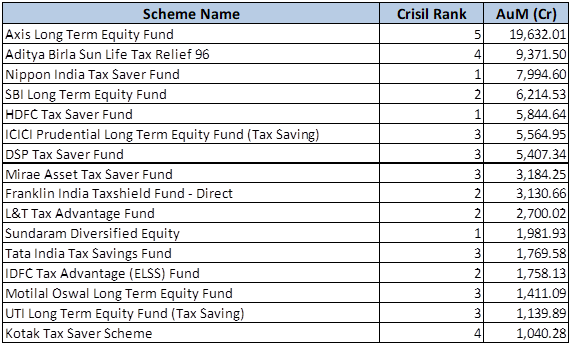 Rationale
Small retail investor like us should always give first priority to safety of original investment. And that can only be achieved by investing in funds having large AUM or at least of the size Rs. 1000 Cr & above.
Primary reason behind it is, mutual funds are a favourite instrument of big investors and they usually invest hundreds of corers in any particular fund. If any point of time they takeout their money (which they commonly do), could effects the performance & investment portfolio badly. Resulting into huge loss of retail investor moreover money could get stuck in fund for revival, that's why we recommend investing in funds who have at least Rs. 1000 Cr AUM.
Step 3 Fundamental Analysis
Yes like share mutual fund also need fundamental analysis, but here we do not calculate any intrinsic value or free cash flow, instead we will focus on important ratios pertaining to fund. These ratios will show how the fund is performing among its peers or against benchmarks. So let's filter our 16 leftover funds on the basis of below fundamental ratios:
Standard Deviation : look for the lowest value among the funds.
Beta : look for a value less than 1.
Sharp Ratio : look for a fund with the highest value this ratio.
Alpha : look for fund having the highest value among the funds.
Sortino : looking for the highest value.
On the basis of the above standards, we have come out with below picture (fig 3). Inhere only Axis Long Term Equity fund has pass all the fundamental ratio test, apart from it Mirae Asset Tax Saver Fund is its closest competitor.
Even at this stage we could safely say that Axis Long Term Equity & Mirae Asset Tax Saver Fund are the best mutual fund for investment or the best mutual fund for tax saving. But still, one more step is left to be explained, so we will further analyse Axis Long Term Equity & Mirae Asset Tax Saver Fund further.
Rationale : the importance of these ratios are.
Standard Deviation : it measures the volatility of the fund's returns in relation to its average returns. It tells how much fund's return can deviate from its average historical returns. High deviation means high unpredictability & lower means the opposite. So we should be looking for the lowest value among the funds.
Beta : it measures mutual fund volatility as compares to its benchmark, if its value is more than 1 it means its more volatile & if less than 1 if shows less volatility. Every retail or big investor look for a value less than 1 indicating less volatility.
Sharp Ratio : it compares fund returns against returns of risk free funds, example of risk free funds are Bank FD's, Bonds, etc. In India we all have a habit of comparing investment against FD's, this ratio does that only. Higher the value better the fund.
Alpha : it measures mutual funds' performance after adjusting the market risk, it shows how well the fund manager is managing the fund. How consistent is its performance in the presence of market risk & volatility. Fund having highest value is best.
Sortino : it predicts chances of loss on a particular investment, higher the number lesser are the chances of loss in a fund.
Step 4 Expense Ratio and Average Returns
Expense ratio is the costing bear by an investor for getting its money managed by an expert fund manager. So as per basic understanding fund will give higher return if it has a low expense ratio, as expense is deducted from returns only. Ideal expense ratio should be less than 1, but in any case it should not go beyond 2.5.
Now come to fund returns; you must be thinking why we are discussing this most important aspect of the fund so late, as for returns only we invest in funds.
Your question is right as returns is center piece of any investment. But as per us method of choosing mutual fund are more important then its returns, because right choice is more essential.
Jot down yearly (at least for 5 years) return of both the funds and category, then calculate average returns for these year too. Now we have to observe these two aspect:
First, seven year average of fund should be greater than equal to category average.
Second, every year return of fund should be greater than equal to category average.

Result : Expense ratio for Axis Long Term Equity is greater than Mirae Asset Tax Saver Fund (but less than 1). Axis yearly returns are almost have similar fashion as of Mirae, but Axis seven year average returns are better than Mirae and category.
Considering above observations, we could conclude that both Axis & Mirae passed our funnel test and are good choice for tax saving investment. With this, we end our article on how to find the best mutual fund for investment.
Rationale
Consistent & above average year on year returns shows that fund manager is highly competitive & vigilant. And his performance way above competition.
You can use above funneling steps for finding best mutual funds under any category or type.
With this we end our article, we are hopeful that you have liked it. Soon we will be coming out more article on mutual funds like How To Track Mutual Fund, When To Sell Mutual Fund and much more, stay tuned.
Tags:
best mutual fund for investment