The Monk Who Sold His Ferrari : Book Review
Author : Robin Sharma
Published By : Jaico Publishing House
Genre : Personal Development and Self-help
Language : English
Buy Now : Amazon IN
An Overview
The Monk Who Sold His Ferrari: A Fable About Fulfilling Your Dreams & Reaching Your Destiny, by Robin Sharma, is an exceptional book — as the subtitle hints, it's a fable, and it certainly gives some thought to your life, your dreams, your goals and how by changing daily habits can help you in reaching your dreams.
The author is an author, guide and a leadership expert. His book is filled with a combination of life strategies. Many of these are useful and if used in combination with proven strategies could be life-changing.
The Story
Julian Mantle the main character, a high-profile lawyer with priorities that center around money, power and prestige crazy. Mantle represents the values which are currently prevailing in our society. The story is told from the viewpoint of one of his peers, who adores Mantle's great success and aspires to be like him.
But when Mantle met with a heart attack in courtroom his life changed completely. That change was not at all good he had to quit his job and had to sell all his possessions. One day he decides to go to India for finding meaning his life and reason for his suffering. When he comes back he was a changed man, a completely different person. There he learned many life principles from mythical Himalayan gurus. And those principles and practical advises changed his life forever, which he is now sharing with his friend.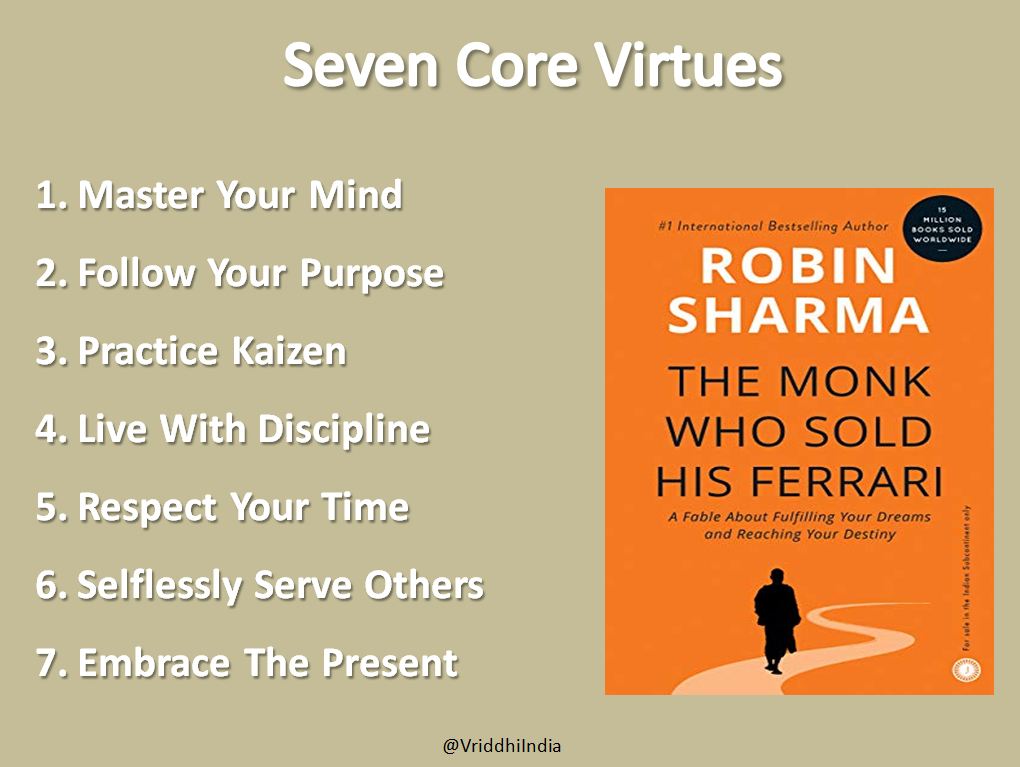 The Concept
The core ideas given in this book are the Seven Virtues of Enlightened Learning and they are:
Master Your Mind
Follow Your Purpose
Practice Kaizen
Live With Discipline
Respect Your Time
Selflessly Serve Others
Embrace The Present
Each of these Virtues is discussed in detail under separate chapters, which is further divided into the number of concepts and habits that need to be developed. Most of them are inspiring and very useful. After reading the book, I also incorporated many of them into my life especially that involve optimistic thinking, goals visualizing, etc you could also try them out.
The Shortcomings
These are not new concepts and can be seen in many other books. Seven Virtues given in the book encompasses bunch of daily habits and incorporating them into your life won't be easy, even some of them are conflicting too.
The Conclusion
Although the book has some shortcomings as listed above, I still recommend you to buy this book it helps you in incorporating routines & habits which can transform your life. It helps in conditioning your mind toward dreams achievement but at the same time it helps in keeping our mind calm and to be happier in life.
If interested, check it out here: The Monk Who Sold His Ferrari: A Fable About Fulfilling Your Dreams & Reaching Your Destiny.